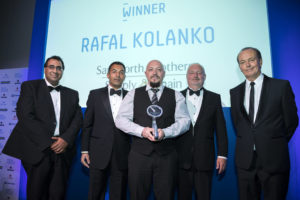 The UK's best  truck drivers have today been named, as the shortlist for the Microlise Driver of the Year Awards is published ahead of the awards ceremony on 15 May.
Bigger than ever before the awards this year took in data from more than 180,000 drivers. Following weeks of telematics data analysis, corroboration, engagement with employers and review by an independent judging panel – just nine remain in it to win it.
The winners of the Microlise Driver of the Year Awards, Short, Medium and Long distance categories will be revealed at an exclusive black-tie dinner. The ultimate winner will then be announced at Europe's largest road transport conference – the Microlise Transport Conference.
The shortlist includes drivers from DHL, Menzies, Co-op, Hovis, Eddie Stobart, Warburtons, CEVA and Culina.
Shortlists have also been produced across a range of nomination-based categories; Young Driver of the Year, Most Improved Driver of the Year, Extra Mile, HGV Hero and Lifetime Achievement Award and include drivers from Ryder, CEVA, Samworth Brothers, Royal Mail, Frank Roberts, DHL, BRS, Bibby Distribution and Travis Perkins. The winners of these awards will also be revealed at the black-tie dinner on 15 May.
MICROLISE DRIVER OF THE YEAR AWARDS SHORTLIST
Short Distance
Ian Hedley – Co-op
Gary Padgett – DHL Next
Timothy Murphy – Menzies
Medium Distance
Richard Barnes – Hovis
Brian Holmes – Warburtons
John Patterson – Eddie Stobart
Long Distance
Alan Bateman – Ceva
David Cashmore – Culina
Richard Porter – Culina
Driver Excellence – Sponsored by Road Haulage Association
No shortlist – award to be presented to operator with largest proportion of drivers in the top 1,000.
Extra Mile – Sponsored by Bridgestone
Richard Durrant- DHL
Stephen Amphlett – Frank Roberts
Daryl Holness – BRS
HGV Hero – Sponsored by Ford & Slater
James Hilton – Bibby Distribution
Gavin Riley – DHL Argos
Nick Mouyiassi- DHL Argos
Most Improved Driver of the Year – Sponsored by NFU Mutual
Gary Hollinrake – Frank Roberts
Jamie Pladgeman – Samworth Brothers
Anthony Roche – Royal Mail
Young Driver of the Year – Sponsored by Santander
Jake Brotherhood – Samworth Brothers
Michael Coker – Ceva
Aaron Haynes – Ryder
Lifetime Achievement – Sponsored by Apex
Angus Campbell – Travis Perkins
Robert Hughes – Bibby Distribution
Mark Lyons – Frank Roberts