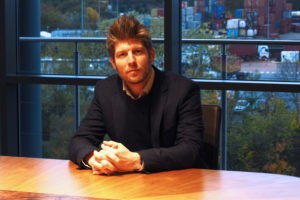 Fuelling growth and increasing operational efficiency through data intelligence has been at the heart of Maritime Transport's business strategy for almost a decade. James Andrews as IT Director and Board member, has been instrumental in driving a number of these system improvements across the business and will share some of Maritime's key learnings at the Microlise Conference on May 20th.
Privately owned, Maritime Transport has grown from a container transport haulier into a full multimodal logistics company, with a current network of 33 sites across the UK. Following the recent launch of Maritime Intermodal, the business also counts a number of rail terminals in its operation.
The company prides itself on its use of cutting-edge technology and practical use of data insights to power its flexible operations across both road and rail.  The relationship between Maritime and Microlise, which began in 2012, continues to grow as the two teams work closely together to drive innovation and efficiencies, with Microlise supporting Maritime to achieve many of its technological goals.
To find out how Maritime harnesses and utilises data intelligence from Microlise telematics, Journey Management and Driver Performance Management solutions, be sure to register today.
For further information, check out our full 2020 agenda here.