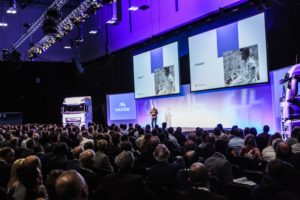 We are delighted to open registration this morning for the transport industry's premier conference! The Microlise Transport Conference will take place on Wednesday 20th May, 2020, once again at The Ricoh Arena in Coventry.
The largest event of its kind in Europe, our 2019 event attracted more than 1,200 delegates for a day of networking and industry debate, with speakers from forward-thinking organisations such as Google and Amazon.
We'll be welcoming yet another stellar line-up of speakers to the stage next year, as well as running workshops, and hosting the ever-popular innovation zone. The conference will also be supported by exhibitors from prominent transport brands and industry organisations.
You can keep abreast of all of our conference related news here and register for this free to attend event. We look forward to seeing you in May…